Should My Atlanta, GA Home be Animal Proofed???…The answer is YES!!
First things first ALL nuisance wildlife animals, as all life forms have needs (ie: food, water, shelter, etc.). Your property only requires to have 1 of the animal's needs to attract them to your home or property. At cooler times of the year, shelter becomes quite important to these critters. The animal's need for shelter, in conjunction with common construction flaws on your home & lax building codes in some areas, all become a recipe for nuisance wildlife to enter your home in Atlanta, GA & the surrounding metro area. Perimeter Wildlife Control in Canton, GA specializes in the sealing of these extremely common flaws, "Animal Proofing" (aka: critter proofing, wildlife exclusion services, pest exclusions).
See Photos below of wildlife exclusion services performed on site at client's homes in Atlanta, GA…..
As you can see from this roofline photo taken in Atlanta, GA. the metal flashing was neither installed, nor secured properly. Perimeter Wildlife Control frequently runs across situations like this animal re-entry. The solution, in cases where the metal is already present, the metal is inspected for strength & a continuous barrier along the home. Areas similar to the one shown in the photo, will be secured & additional flashing will be installed to wrap around the corner.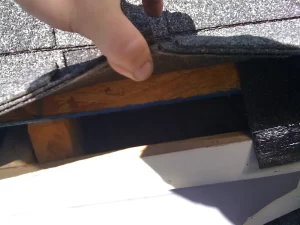 The most common area for animal to enter your attic. The roofline gap or bulder's gap.As seen in the snapshot above, by simply lifting up the edge of the shingles on your home you can expose your roofline gap. This gap will normally run the entire stretch of the home, usually in places where gutters are located. The solution for this is to install custom fabricated metal flashing & seal it off, ALL metal is fabricated on site to match the pitch of the client's roof, as well as the size of the gap. It is not uncommon to find structures that have different size gaps all around them. All wildlife exclusion materials are premium products, & all fasteners are non-corrosive.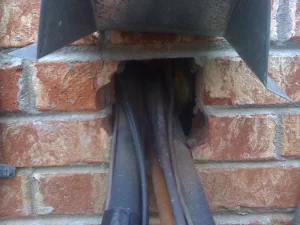 An HVAC unit on the exterior of your home or structure has lines the need to run into your attic, basement, or crawlspace. These lines are literally a highway from the exterior of your home to the interior walls, & eventually leading into your living space. These areas are sealed in a number of ways, though the most common is a combination of hardwire mesh & silicone or expandable foam. These areas are usually in the top 5 areas sealed along the perimeter of a home. Additionally, gas lines, plumbing, electrical, & even cable fall into this category as well.
All of the areas mentioned above allow nuisance wildlife animals to breach your home. These areas must be properly sealed in order to insure a proper wildlife exclusion & that animals will not make their way back in to your home or structure, if for nothing else, than for peace of mind. In addition to sealing off the entry points, it is essential to trap & remove any animals left inside the home. After a period of usually 2-3 weeks all animals should be removed from the home, at which time the process of clean up & sanitizing can begin. Check out future blog posts for more interesting information on the nuisance critters that take up residence in homes all over Atlanta, GA.
AND……….
If you require immediate 24/7/365 emergency animal removal in Atlanta, GA; including snakes, bats, squirrels, rats, raccoons, opossum, & all other nuisance critters give us a call anytime @ 770-369-7713.
PERIMETER WILDLIFE CONTROL, "ATLANTA'S 24/7 WILDLIFE SERVICE!!"
770-369-7713
LIKE US: www.Facebook.com/PestRemovalAtlanta
FOLLOW US: www.twitter.com/@PerimeterWild
MENTION OUR BLOG & GET 10% OFF A FULL WILDLIFE EXCLUSION WHEN YOU LIKE US ON FACEBOOK!!
http://www.pestremovalatlanta.com/wp-content/uploads/2014/03/logo.png
0
0
A.J. Balseiro
http://www.pestremovalatlanta.com/wp-content/uploads/2014/03/logo.png
A.J. Balseiro
2014-05-18 16:48:18
2014-05-18 16:48:18
Should my Atlanta, GA home be "Critter Proofed"???